The Salem Symphony
Getting the Salem Symphony together, getting these folks to play together for the first time, working with them through their first performance. These are gifted people who've worked and polished their skills. Their commitment to the symphony and to Salem is real. And the audience's response from our first performance shows - Salem has been waiting for this.
The Elsinore Theatre is the home venue of the Salem Symphony. They've formed a working partnership of sorts with the symphony. Tom Fohn, General Manager. The response has been really unprecedented. Just very enthusiastic. I heard a lot of "Wow - We're coming back" An absolute homerun. It's already a strong draw for the theater. The experience of being surrounded by orchestral sound is something that changes one's expectations of music. And that's a good thing. We want to continue raising expectations. Planning is moving forward on for a student outreach program...
Funding for state and local music programs has diminished, we're planning outreach programs to take this experience into schools, where kids are wondering what to do with their free time. We want to visit schools with some of our musicians - who love mentoring - and work with kids at every level. We can plant the seed so they value more complex or more subtle music.
We're showing young people there's more to music than what they hear on their smart phone. This is not a synthesizer. There's a person making this music – someone from Salem. Who studied and practiced. And another one beside them, and another instrument, all working together. An established symphony can act as a centerpoint for diverse creative groups.
We're partnering with creative groups throughout Salem to create productions Salem has ever seen before. The Salem Arts Council, very talented singing ensembles like the Westside singers - suddenly they've got a venue and context for their work. And everyone they touch is touched by this. Everyone's contributions, big or small, helps bring this music to audiences in Salem that probably have never experienced these kinds of performances before. And we've got a great 2017/18 season planned.
A symphony is a non-profit business, but it is a business. With bills to pay. Alexa Aimer, as general manager of the Salem Symphony sees every expense...
People might think of the equipment rental or the sound engineers, or the musicians. But the cost of rights to perform contemporary film scores would surprise you. Shocked me. Rights to perform the score of popular films of the sort that audiences love the most run into the tens of thousands of dollars.You can see a big crowd like we had at our premiere concert and think "wow, they're doing great." Ticket sales don't even start to cover costs. People say there's not much of cultural significance in Salem; well - here's what it takes to have that. It takes the community to keep this here and growing.
Dallas and his wife Alexa, general manager of the Symphony, know they're in an uphill struggle. Salem sees things like this come and go. Salem can say there are too few things of cultural significance in Salem - well here it is. So. What's Salem gonna do about it? We'll see.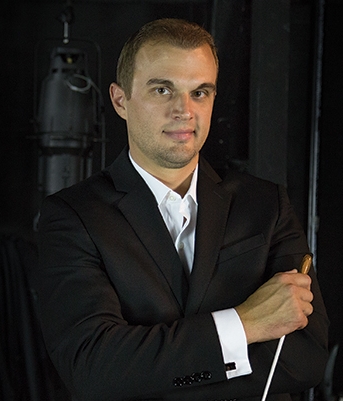 Music Director Dallas J. Aimer is a award winning and celebrated conductor, composer, orchestrator, and music director who has worked on everything from Emmy award winning television shows, blockbuster movies, indie feature films, video game scores, theatrical productions, recording sessions for pop artists, to orchestral symphonic concerts and staged events.